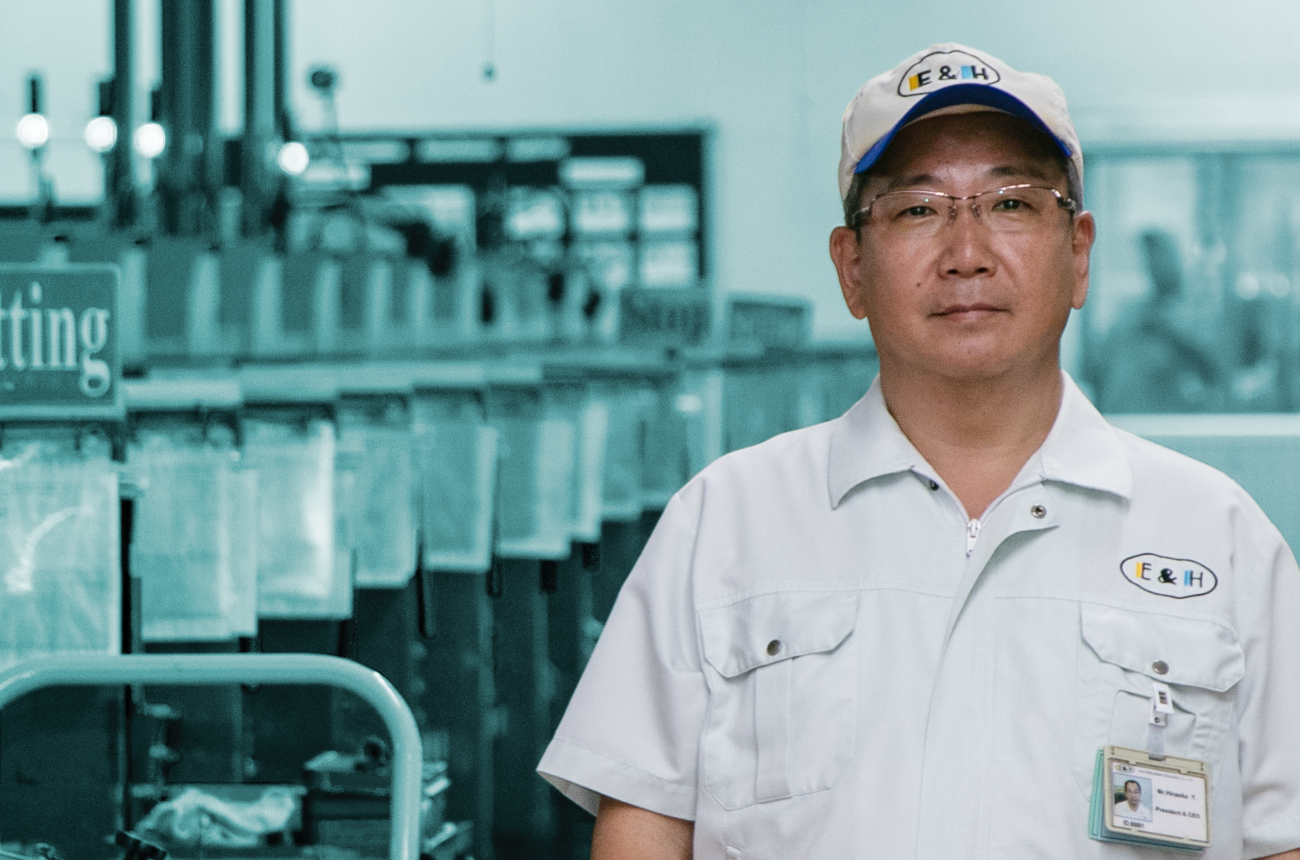 We are a globally-expanding machining manufacturer with more than 100 years of history.
As a company, we aim to be indispensable not only to those who will be joining our company in the future but also to all related parties.
We would like for you to achieve a worthwhile career and a fulfilling life as a member of the E&H family.
President & CEOYasuhiro Hiraoka
From a local workshop to a global machining manufacturer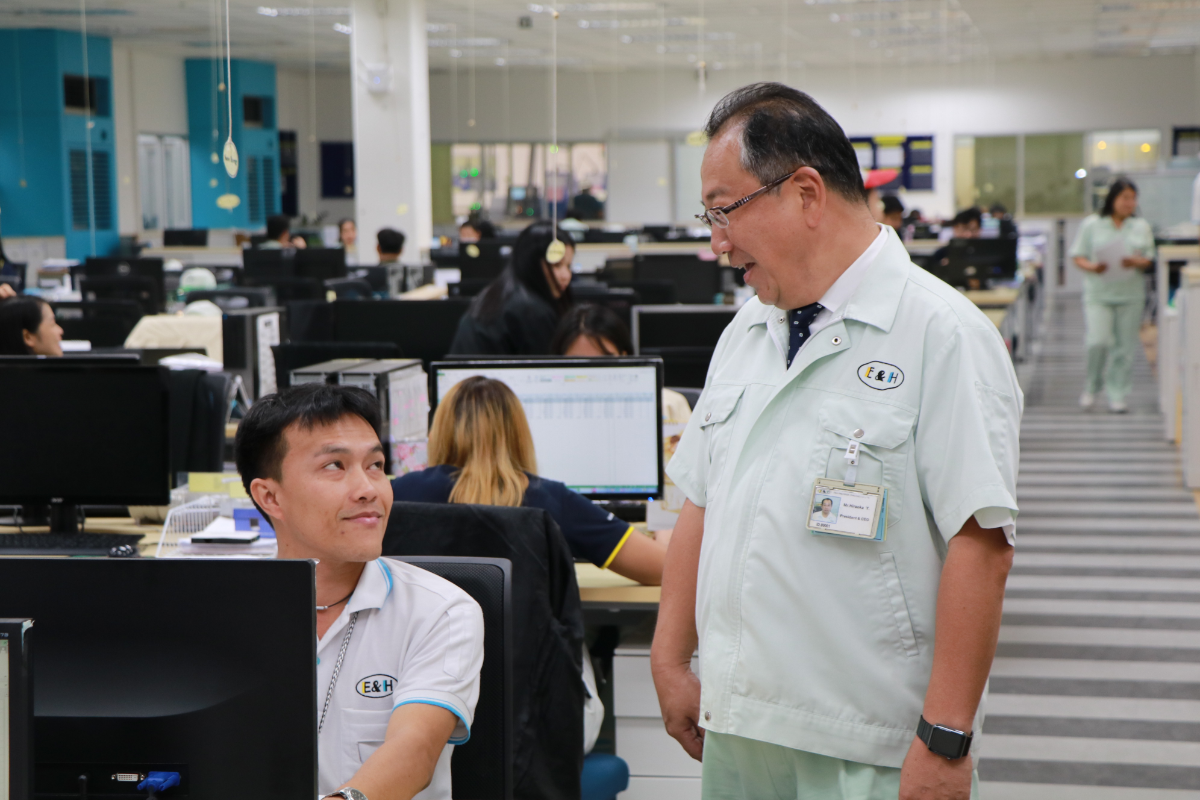 From 1907, our company extensively handled textiles under the name "Hiraoka Texiles," but in 1972, due to a structural recession in the textile industry, we changed our name to "Hiraoka Sangyo Co., Ltd." and shifted our business to machining and tuning of high-precision metal parts using automatic lathes, which is the foundation of our current business.
Later, we expanded into Thailand as the first Japanese automatic-lathe machining manufacturer and established E&H Thailand. Utilizing our experiences in Thailand as pioneers, we were able to expand into India in 2010.
Currently, with approximately 1,500 employees and nearly 800 automatic lathes in the Hiraoka Sangyo Group, we produce more than 30 million items each month, which are highly rated by more than 150 client companies in a total of 14 countries.
Looking at 20 and 30 years from now
Currently, 60% of what we produce are engine parts. With the increase in environmental regulations, there has been a rapid increase in production of parts relating to exhaust gas purifiers, and orders for these are steadily increasing.
Until 2025, we intend to concentrate on producing these parts for gasoline and diesel engines, and secure profits as a remaining player from hubs in Thailand and India.
In addition, as we realize that demand for our current staple commodities will drop accompanying the future proliferation of electric vehicles, so in line with the changing times, we have started pioneering new fields, such as robotics, aircraft and medicine, based on our main industry of metal machining.
Furthermore, as examples of new businesses, we would like to be able to manufacture implements in-house and market them overseas, and also market IoT production control system developed in-house, including consulting services in the future.
We intend to continue challenging ourselves in new fields while making use of our strengths to date by focusing on metal machining as our core business and developing peripheral businesses for diversification.
We provide in-house welfare and service programs, create good working environments and contribute to the local community under the motto of the "3Ss", Suk (happiness), Sanook (fun) and Sabai (comfort).
The "3Ss" enable us to feel the most at ease.
People do not take action when forced. We feel that the company functions well thanks to the atmosphere created by the 3Ss.
In regard to welfare and service programs, we have included external consulting companies over the last two or three years and we feel that we have succeeded in establishing a system that we can be proud of as a manufacturer of automatic-lathe machined parts.
It is not possible to provide "satisfaction" to all employees, but we will continue working hard to make employees feel truly "happy" by creating a workplace where employees can enjoyably and comfortably work and a company where they can stay for many years to come with peace of mind.
Our employees are a family connected through trust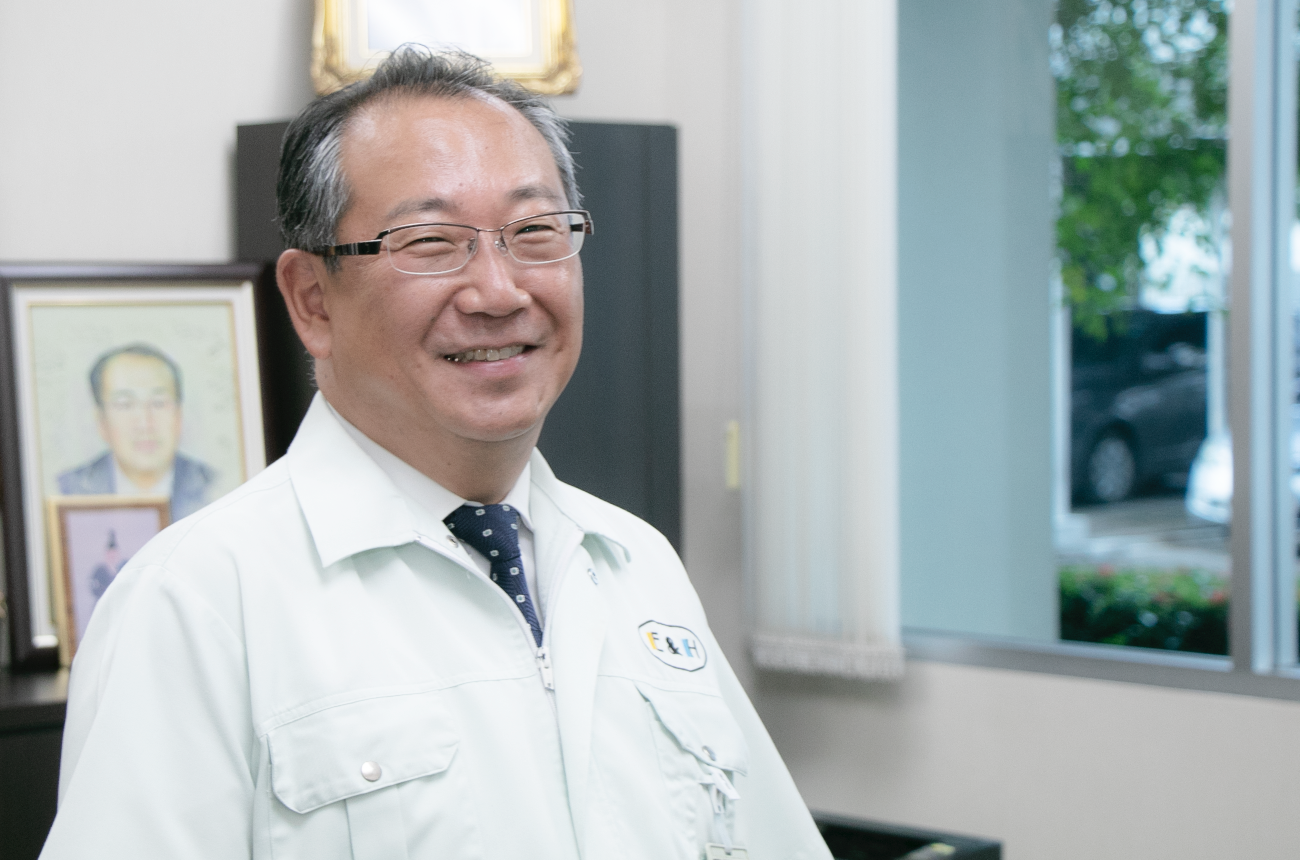 We only live once. We want to have goals and test our abilities, and we intend to spend the rest of our lives working toward this. However, we do not force this upon others.
We feel that it is important to show employees the prospect of a bright future and create an environment where employees can work with peace of mind, including salary, welfare and service programs, in-house environments, etc., so that "everyone can feel connected through trust like a family."
It makes us extremely happy to hear employees say, "I am glad I work at this company."
We will continue wholeheartedly conducting business into the future together with our employees, who are members of our family.
We hope that you too will join us and become a member of the E&H family.